Moxibustion
Moxibustion is the burning of the herb Mugwort. It can be used directly on the skin on acupuncture points formed as tiny cones prior to needling. Or it can be used indirectly on a needle for pain relief or as a moxa stick held over the skin and over where the needles are inserted.
The patient will feel a gentle warmth from the moxa, it will not burn the patients skin. It is very efficient in moving the patient's blood, relieving pain and making the treatment more effective. It is especially effective for patients that always feel the cold and are deficient in energy.
Moxibustion is a treatment in its own right. For example, the treatment for turning breach babies uses only moxa, no needles are involved.
Cupping
Cupping is used to stimulate blood flow and clear stagnant Qi at certain acupuncture points and at the site of pain. Cupping can temporarily mark the skin.
Gua Sha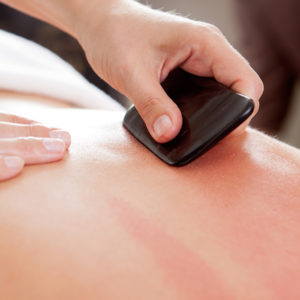 Gua Sha can be described as a massage of the skin using a flat edged tool to increases blood flow and release muscle tension effectively. 'Gua' means to scrape or rub, while 'Sha' describes the temporary redness that results temporarily marking the skin. The principle is to press-stroke the skin with a tool until a red rash appears. Modern studies show Gua Sha increases blood flow to the surface of the skin and boosting the lymphatic system.
Regular Gua Sha has also been shown in studies to ease muscular tension and may also be helpful for improving sleep. Gua Sha is especially helpful if you're chronically stressed and find it hard to make the switch to sleep automatically. At bedtime, its good to Gua Sha the chest and arms, although you can do it all over the body. Press-stroke your chest from the centre outwards using a Gua Sha tool, a jam jar lid or metal tea spoon. Do it six to eight times on each side. Next, do the same down each arm.
"These game-changing techniques from Chinese medicine might be thousands of years old, but they take just minutes to master. Whats more, introducing them into your wellness routine could be the answer to modern-day issues.

In the Acupuncture clinic, Gua Sha is frequently and successfully used to treat tension headaches, muscle tension, where hard muscle knots otherwise are difficult to relieve, Gua Sha is the technique most likely to deal with this successfully. The Sha, temporarily redness, is deeper in colour the longer the stagnation has been present ( from deep purple) to (light red) where the tension not has got hold in the body the same way, but still enough to cause pain and tension in the body.

As the Sha fades, so does the pain and tension. Gua Sha tool used in the clinic is special made Gua Sha tools made from bone, or most of the time a bone china soup spoon. At home patients might use the back of a jam jar lid.

Gua Sha is also used in facial acupuncture to promote blood flow of the face, here more gently with a Jade tool.

Red magazine "Head to Toe Happiness", June 2019