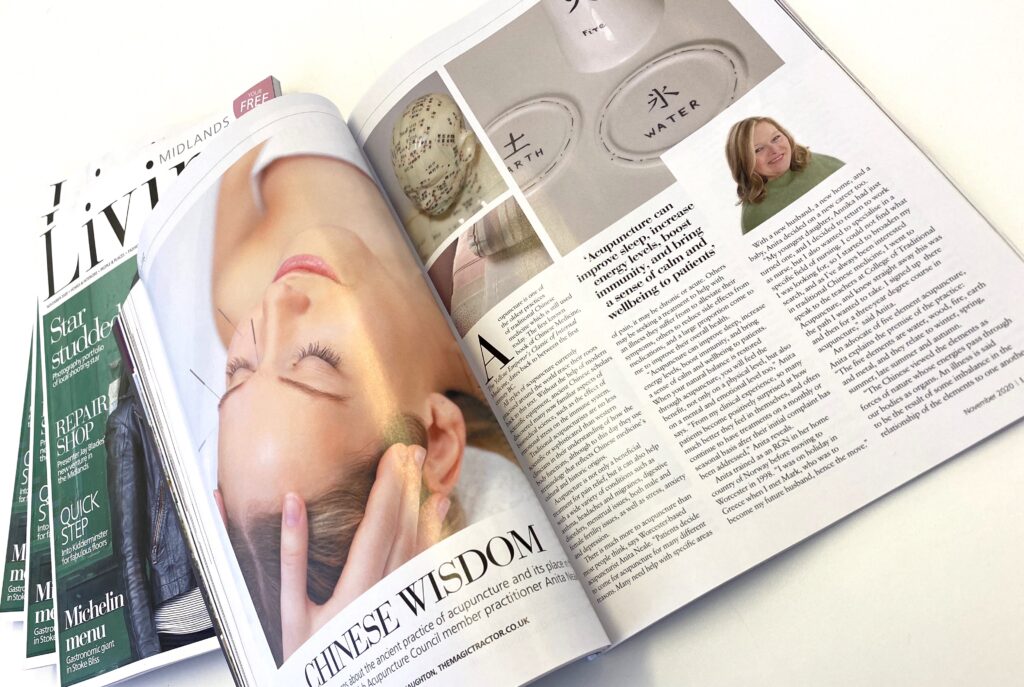 I was delighted to be asked by Sharon Martin journalist at Living Magazine to share what I have learned about the ancient practice of acupuncture and its place in the modern world. Here's the article, you can also see the full magazine here Living Magazine, Nov. 2020 Beauty & Wellness
CHINESE WISDOM
Sharon Martin learns about the ancient practice of acupuncture and its place in the modern world from British Acupuncture Council member practitioner Anita Neale
Acupuncture is one of the oldest practices of traditional Chinese medicine which is still used today. The first known book of Chinese Medicine,The Yellow Emperor's Classic of Internal Medicine, dates back to between the first century BC.
All styles of acupuncture currently practised around the world trace their roots back to this text. Without the help of modern scientific equipment, ancient Chinese scholars discovered many now familiar aspects of biomedical science, such as the effect of emotional stress on the immune system.
Traditional acupuncturists are no less scientific or sophisticated than western clinicians in their understanding of how the body functions, although to this day they use terminology that reflects Chinese medicine's cultural and historic origins.
Acupuncture is not only a beneficial treatment for pain relief, but it can also help with a wide variety of conditions such as asthma, headaches and migraines, digestive disorders, menstrual issues, both male and female fertility issues, as well as stress, anxiety and depression.
There is much more to acupuncture than most people think, says Worcester-based acupuncturist Anita Neale. "Patients decide to come for acupuncture for many different reasons. Many need help with specific areas of pain, it may be chronic or acute. Others may be seeking a treatment to help with an illness they suffer from to alleviate their symptoms, others to reduce side effects from medications, and a large proportion come to me to improve their overall health".
"Acupuncture can improve sleep, increase energy levels, boost immunity, and bring a sense of calm and wellbeing to patients. When your natural balance is restored through acupuncture, you will feel the benefit, not only on a physical level, but also on a mental and emotional level too," Anita says. "From my clinical experience, so many patients become positively surprised at how much better they feel in themselves, and often continue to have treatments on a monthly or seasonal basis after their initial complaint has been addressed," Anita reveals.
Anita trained as an RGN in her home country of Norway before moving to Worcester in 1998. "I was on holiday in Greece when I met Mark, who was to become my future husband, hence the move."
With a new husband, a new home, and a baby, Anita decided on a new career too.
"My youngest daughter, Annika had just turned one, and I decided to return to work as nurse, but I also wanted to specialise in a specific field of nursing. I could not find what I was looking for, so I started to broaden my search, and as I've always been interested in traditional Chinese medicine, I went to speak to the teachers at College of Traditional Acupuncture, and knew straight away this was the path I wanted to take. I signed up there and then for a three-year degree course in acupuncture," said Anita.
An advocate of five element acupuncture, Anita explains the premise of the practice:
"The five elements are water, wood, fire, earth and metal, and they relate to winter, spring, summer, late summer and autumn.
"The Chinese viewed the elements as forces of nature whose energies pass through our bodies as organs. An illness is said to be the result of some imbalance in the relationship of the elements to one another, which places stress upon one or more organs. Treatment is aimed at correcting this imbalance by inserting fine acupuncture needles into specific points which relate to the different organs." Restoring this balance, Anita says, "will not only have an effect on patients' symptoms, but they often experience positive changes in mood, sleep and energy levels."
Acupuncture treatments vary even when the same condition is being addressed, Anita tells me. "Two people can come to me with the same symptoms, but that doesn't mean they will receive the same treatment. I always tailor treatments to the individual and make a diagnosis from a Chinese medicine perspective to treat the underlying cause of distress to restore balance."
The aim of the treatment is to allow free flow of Qi and blood in the 12 meridians running along the body, that will restore health and balance for the patients as much as possible.
"Some patients experience an immediate effect, whereas with others it may take quite a few sessions to turn things around, particularly when they have suffered with ill health or a symptom for a number of years," Anita explains.
Anita has seen an in influx in patients during the pandemic. "In China, hospitalised Covid-19 patients have been treated with acupuncture, as it can be very effective in treating patients with respiratory difficulties," Anita says.
"Although this isn't a treatment used in Covid wards in the UK, I have treated patients suffering with lung issues, chronic fatigue, anxiety and depression post-Covid. My patients have found it really helpful in their recovery."
Contrary to what some may imagine, acupuncture, despite the use of needles, is a very gentle technique. In addition to needles, Anita uses herbs and tools when the condition dictates. "I use a herb called moxa, and place very small cones on the acupuncture points and light them to give a gentle heat which promotes the blood flow and increases circulation. This treatment is beneficial for pain and poor circulation, and it is also very therapeutic and nourishing when treating deficient conditions," Anita says. "I also use gua sha, a tool to apply pressure and stroke the skin. It helps release tension in the muscles, increases blood flow to the skin and boosts the lymphatic system," Anita adds.
Facial rejuvenation acupuncture is becoming increasingly popular as women turn to natural alternatives to look and feel younger. "The Chinese have used facial acupuncture for thousands of years, and acupuncture is a safe, natural alternative to using fillers and Botox," Anita says.
"Inner health reflects the outer health, and acupuncture, including facial acupuncture, is a holistic approach to restore balance of mind, body and spirit," Anita adds.
Results from a course of facial rejuvenation acupuncture are more subtle than cosmetic surgery, but improvement of the appearance of fine lines and wrinkles, sagging skin, and puffiness around the eyes can be expected.
Circulation and lymphatic flow and drainage will give the complexion more radiance and better skin tone, naturally.